News & Events
This section contains current news and events as well as project team biographies and a telemetry blog. Discover where telemetry tags show that juvenile Steller sea lions are dying in Alaska. See a recent map of mortality events below.
Autopsies from space: who killed the sea lions?
Updated on November 25th, 2014
Read up on our sleuthing out of what predators could be responsible for some of the sea lion deaths we observed via the use of LHX tags.
Read the article in The Conversation.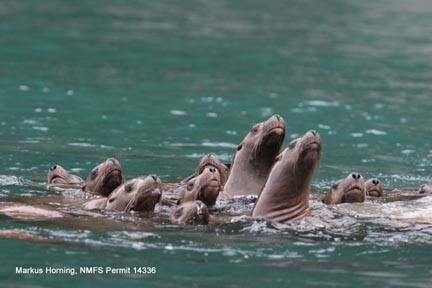 YouTube video of a seminar by Dr. Markus Horning on the topic of Sleeper shark predation on Steller sea lions
Updated on November 24th, 2014
On Friday, Nov 20th, 2014, Dr. Horning gave a seminar presentation at the Fisheries Centre of the University of British Columbia.
Watch this lecture on You Tube.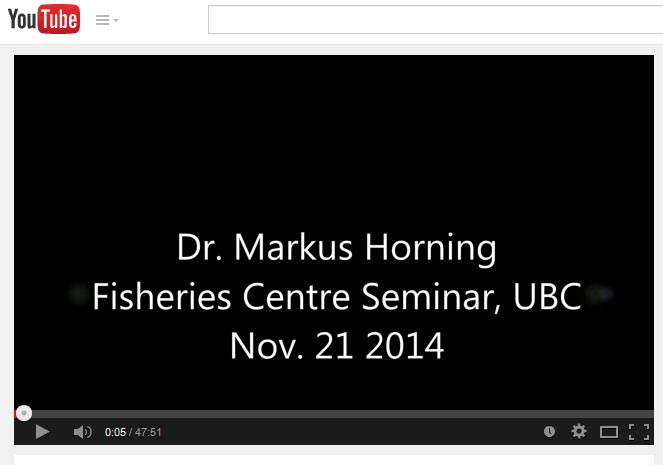 New publication with some startling results
Updated on Oct 21st, 2014
Our latest paper just appeared in the scientific journal Fishery Bulletin:
Horning M, Mellish JE (2014) In cold blood: evidence of Pacific sleeper shark (Somniosus pacificus) predation on Steller sea lions (Eumetopias jubatus) in the Gulf of Alaksa. Fishery Bulletin 112:297-310.
.... and guess what?
We found some pretty compelling evidence that some of the predators that are attacking young Steller sea lions in our study area, are Pacific sleeper sharks. This may seem improbable, as 'sleepers' are thought by some to be slow moving, sluggish, bottom dwelling scavengers. Well, think again! Better yet, read our paper!
Or read a synopsis in this OSU press release on our new findings.

More LHX2 tags out!
Updated on Sept 15th, 2014
And we completed our second round of LHX2 tag deployments just recently. We caught, implanted, and released another four female Steller sea lions, bringing the total number of animals that have received 2nd generation LHX2 tags to 9!

Getting LHX2 tags out!
Updated on May 15th, 2014
We are starting the next stage of the LHX project! Under funding from the North Pacific Research Board, the Pollock COnservation Cooperative Research Center, the North Pacific Fisheries Foundation and the Alaska SeaLife Center, we recently captured six young female Steller sea lions in Prince William Sound. Five of the six animals were just released with LHX implants that can detect parturition. These tags will later tell us at what age these females had their first pup, and how many pups they will have born by the time they die. The 6th female was also released but with only an external tracking device. She will sereve as a control.
Recent Mortality Events
Updated on February 1st, 2014
As of February 1st, 2014, we have detected 17 mortality events. At least 15 of these 17 events were due to predation. In two cases, we did not receive enough data to determine the likely cause of mortality. In fourcases the data suggests that the animals died by predation from Pacific sleeper sharks.
This map of mortalities is based on satellite locations from the Life History Transmitter. Each dot indicates a place where a juvenile Steller sea lion has died. The red dots indicate Steller sea lions that have died due to predation, likely from transient killer whales. The blue dots also indicate sea lions that have died from predation, but in this case most likely by Pacific sleeper sharks. The white dots indicate insufficient information to determine a cause of death.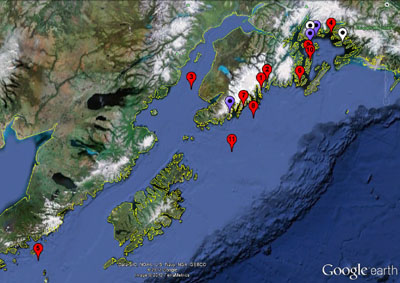 For more information, see the "Map of Mortalities" page under 'What Are We Learning?'.
Telemetry in the News
New study published today in the journal PLoS ONE
Our latest publication resulting from the LHX tag project was published today in the online Open Access journal PLoS ONE. The paper presents a new population model that analyzes how predation rates may change as the abundance of sea lions varies.This model is what we call a qualitative conceptual model. This means it is a model that presents 'what if' scenarios, rather than a quantitative model that attempts to make specific and accurate predictions for certain circumstances. The conceptual model is a thinking tool. However, our model suggests some very interesting 'what if' scenarios. Specifically, the model suggests that predation may be the main driver behind the western Steller sea lion population trends. Furthermore, the model suggests that this effect may come about because predators may focus their efforts on young sea lions. This could result in fewer females surviving to sexual maturity and having pups. This in turn could lead to the appearance of reduced birth rates - which have been suggested as drivers of the population trends. Our model instead suggests that this effect may actually stem from predation, and that birth rates have not changed at all. This publication is available for the general public to download and freely distribute. Click here to download this publication from the PLoS ONE website.

Check out this nicely done write-up on our project on the website of the North Pacific Universities Marine Mammal Research Consortium: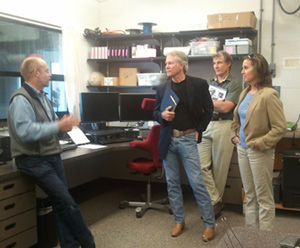 Oregon Governor and First Lady Learn about Life History Transmitters

Oregon Governor John Kitzhaber and First Lady Cylvia Hayes visited the Pinniped Applied Ecology Research Laboratory (PEARL) as part of their visit to the Marine Mammal Institute at the Hatfield Marine Science Center.  "Governor Kitzhaber and First Lady Hayes have a genuine interest in marine science," says Dr. Markus Horning of PEARL. Dr. Horning showed the Governor and First Lady the Life History Transmitter Tags that he implants in Steller sea lions to study how they are dying. "They seemed to find the project interesting and fascinating," says Dr. Horning.  Dr. Horning described how the tag detects mortality and how it distinguishes predation and non-predation events. "The Governor and First Lady even participated in a impromptu brainstorming session related to recent mortality events," chimes Dr. Horning. Dr. Horning explained that the latest Steller sea lion death may likely be due to predation by a shark. The Governor, First Lady, and Dr. Horning considered how to modify a sensor on the tag to register that it is in a shark's stomach.
Photo: (L to R) Dr. Markus Horning, Governor Kitzhaber, Gil Sylvia (Superintendent of the Coastal Oregon Marine Experiment Station), Cylvia Hayes (the Governor's partner and First Lady of Oregon). Photographer: Heather Bene, Oregon State University Government Relations.
Last Capture Cruise Ended with an Exciting Re-sight
This June marked the 15th and possibly last capture cruise for the Life History Transmitter Project. On June 2nd, a team from the Alaska Sea Life Center and Oregon State University went out to capture the last four juvenile Steller sea lions of the project at Glacier Island in Prince William Sound. At the haul-out they had a pleasant surprise, the team saw a seven-year-old female who received one of the first two LHX implants. (She is visible in the photo below as =908.) "She appeared to be healthy and doing well. We hope we will see her with pups next year," said Dr. Markus Horning. Scientists brand the animals to be able to identify them later and monitor their survival. They also saw two other animals that had received implants. Since the first capture cruise in August 2005, researchers captured 60 juvenile Steller sea lions and 37 received implants. "In this phase of the project, we are simply waiting for mortality events to occur," Dr. Horning explains. Researchers anticipate that the cause of death in Steller sea lions may change as the study animals age.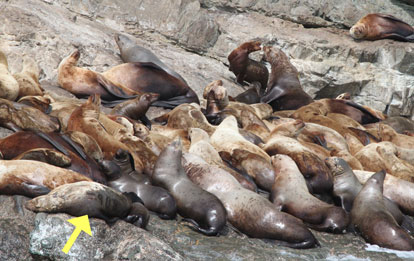 This is one of the first two LHX-implanted animals, a female that was released in November of 2005 at the age of about 1.5 years. She is now 7 years old and doing well. She is marked with these characters,  =908.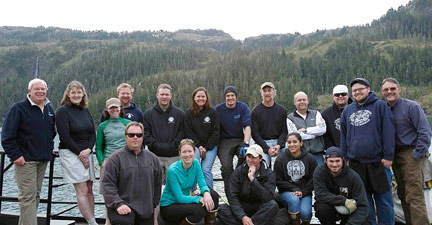 The success of these capture cruises depends on many individuals and staff at the Alaska SeaLife Center including the husbandry staff.
Dr. Bill Hanshumaker Presents Curriculum at NW NAME
Dr. Bill Hanshumaker will be presenting a poster at Northwest Aquatic and Marine Educator Conference in Port Angles, Washington about Studying Sea Lions Using Telemetry, the companion curriculum to this website. The conference will take place on July 13-16, 2011 at the Olympic Park Institute. We invite educators to attend Bill's poster presentation and learn more about what the curriculum and website have to offer!